Pollution Prevention Week 2010
Video Contest
What if everyone did one small thing to make less of an impact on our environment? It's the question Pollution Prevention Week 2010 is asking.
Send us your answer in a 60-second-orless video telling how changes in your daily life can have a positive impact on the environment.
All you need to do is fill out the submission form, review the rules, and submit your video response to our promotional video on DTSC's YouTube contest site. Entries are due by September 19, 2010. For details, click here.
Recap: Tribal Green and Healthy Schools Workshop in Rapid City, SD
EPA Region 8, the Aberdeen Area Tribal Chairmen's Health Board and the Indian Health Service provided a 2.5 day workshop on July 13-15, 2010. It was attended by 47 Native Americans from 12 Tribes and 11 Reservations, representing tribal schools and tribal environmental departments mainly from North Dakota, South Dakota, and Wyoming. Attendees pledged to complete environmental or health projects at their schools.
Topics covered included: Children's Environmental Health, ENERGY STAR, Recycling, Composting, Waste Reduction, Pollution Prevention, PCBs in Caulk, Lead Based Paint, School Chemical Cleanout, Integrated Pest Management, Indoor Air, Asthma, Asbestos, Environmental Justice and Grant Application Training. Peaks to Prairies' Myla Kelly gave presentations on Green Cleaning and Waste Reduction.
The Native Sun News covered the event - read the story »
About Peaks to Prairies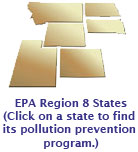 In cooperation with EPA Region 8 states, Peaks to Prairies encourages adoption of pollution prevention practices by citizens, small businesses, and local governments. The Center offers access to current information and contacts, encourages collaboration and leveraging of resources between programs, and builds information systems to enhance information dissemination.
Current P2 Projects in Region 8
Colorado: Medication Take-Back Pilot Project
Montana: "Don't Flush - What to Do with Medications" flyer - Take Back Event on Sept. 25 at various locations around Montana; Lead by Example Sustainable Government Program; Where to Recycle Guide for Gallatin County
North Dakota: Bike to Work Weeks for North Dakota Department of Health employees - read more about Biking in North Dakota; Pollution Prevention Program - Electronic Waste Recycling and Disposal Services Program; Take the Stairs Campaign
South Dakota: Hazardous Waste Program
Utah: Mercury and CFL Fact Sheet; UH2 - Utah Healthy Hospitals Initiative
Wyoming: P2 Site Visits; Voluntary Self-Audits