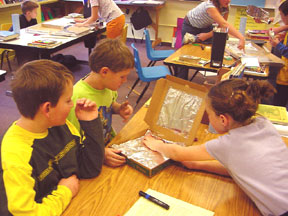 Youth Education
Children should not be burdened with the responsibility of saving the world. But their imaginations can be sparked–and then look out!
In our society waste is usually addressed after it exists, being at that point something tangible. The concept of pollution prevention (P2) is more abstract, and therefore, more complex to understand and embrace--for children and adults alike. Achieving pollution prevention requires constant awareness because change is accomplished through small, daily personal choices. (Do you choose to walk, drive or carpool when you leave your house? Does that huge bag of chips have more or less packaging than several lunch-sized bags?) We offer two Youth Education resources to help youth, teachers, and youth leaders learn about and integrate pollution prevention.
The P2 EnviroRangers Web Club (leaves this site) is a web club for kids who want to help the earth by practicing P2. It employs hands-on activities relating to common life issues to make the concept of P2 real and attainable. The club is moderated by ChickenWoman who helps create an on-line community for sharing ideas and accomplishments, fertile ground for learning more about integrating P2 into everyday life. EnviroRangers helps kids learn about P2 through:

An interactive P2 Quiz
P2 Facts page, including the Create Less Waste Bulletin Board
P2 News edited for this age group's interests
Links to environmental Games/Activities elsewhere on the web
Individual Activities in five life areas:
1. Communications and Technology, 2. Farm & Ranch, 3. Home & Household, 4. Local and Global Community, 5. Young Entrepreneur
Pollution Prevention and Youth Education Topic Hub defines the relationship between pollution prevention and environmental literacy. The hub offers teaching strategies, curricula and activities, and a reference library, and includes over 180 links related to P2 and education. Curricula and activities are identified by age groups and by the following topics: Agriculture, Air Quality, Energy Conservation, Household & Community Waste Management, P2 Careers, P2 Consumer, Transportation, and Water Quality. This topic hub is presented by the Peaks to Prairies Information Center and P2Rx.